PodZa - Print On Demand Platform
A business acceleration system that works for you while you calculate your income from print on demand solutions!
What is PodZa Print On Demand Platform?
PodZa is a product designed to manage print on demand fulfillment software services, all related business processes, technology, and third-party POD software. The main target audience is owners of warehouse space and printing shops, taking orders from affiliate stores on various trading platforms such as Shopify, Etsy, etc., and striving to become a successful POD provider.
PodZa is suitable for companies employing print on demand software and working both in pure form dropshipping or W&F schemes, and any combination of these methods.
The flexibility of PodZa print on demand software settings allows customizing it to any business logic, no matter how difficult it would be! Carefully thought over architecture allows implementing literally any additional functionality and useful tools!
PodZa is a business acceleration system that works for you while you calculate your income from print on demand solutions!
Reasons to choose PodZa POD Platform
You are an e-commerce businessman with a fully stocked warehouse or provide drop shipping services but would also like to offer print on demand services over such items as mugs, t-shirts, hoodies, pillows, rugs, caps or even jewelry?
Well, you just have to buy the necessary on-demand printing equipment and PodZa, which will systematize your business processes and allow you working with Shopify or another web store platforms, as well as Etsy, Amazon, eBay, Woocommerce, etc.
You provide dropshipping/warehousing services, or you have printing equipment with which you already provide POD fulfillment services but your business processes are in the chaos that reduces productivity and steals your time?
PodZa will aid in organizing your business processes, and free up a lot of time and other resources for you!
You are already engaged in B2B online trade and have a developed network of partner online stores?
Establish yourself as a print on demand solution provider! The algorithm of actions is as follows:
Get printing equipment suitable for your field of activity, for example backpacks, disks, dishes, clothes, jewelry, stationery, etc.
Get PodZa! It will help to organize and systematize your business processes.
Invite your partners to cooperate. For this, they will only need to connect the application to their store, add custom images for printing, and publish products with these images.
Your online sites use 3rd party POD solutions like Printful but you are thinking about expanding your business towards own POD hub?
In such case, PodZa is the ideal solution for organizing new business processes and systematizing the existing ones.
PodZa Review
In this PodZa review from ecommerceCEO, you'll take a closer look at the software, features,
and more, to help you decide if you want to use it to run a successful POD provider business.
Advantages of PodZa: highlights
Save time!
Save funds!
Save time!
You save at least 6 months required for developing, testing, and introducing such a solution from scratch!
In just a couple of weeks, our print on demand product will begin generating the income for you!
Spend the freed time on marketing and promotion, gaining new partners and customers!
Use this time to customize your print on demand platform, which will allow your company to defeat the competition with optimized operational activities!
Save funds!
You save at least two-thirds of the budget needed to develop similar print on demand solutions from scratch!
Invest these funds in marketing and SEO, ad campaigns, and promotions! Build partnerships and customer base! Increase sales and profits!
Improve your instance of PodZa with the help of our team, implementing the wildest ideas to life!
Automate all the routine activities, freeing yourself and your staff from low-performance tasks! After all, it is much better to spend this time on quality rest and personnel development!
PodZa earns money and makes your life easier while you develop and improve the functionality of your print on demand systems!
Benefits for Print On Demand solution provider
Attractive price: You will be surprised, how affordable is the price for the full package of features of PodZa print on demand application
Custom: We develop fully customized product generator solutions for business needs Merchant design via editor;
Simple: Your customers (store owners) get to boost profits and market demand simply by installing the PodZa print on demand app;
Quick: Only 5 steps in one week and you can start making a good profit;
Support: 30 Days warranty with a free support; 24/7 server monitoring;
Flexibility: An ability to add or customize any functionality expertly and quickly at a reasonable cost.
E-commerce App for Print On Demand: principles of operation
Set up the POD app
Create unique products
Launch shipping & fulfillment
Set up the POD app
A store owner should download the PodZa e-commerce app for print on demand from the Shopify repository and connect it to their Shopify store.
Create unique products
Use the print on demand software to upload the original artwork and place it over a variety of printable objects to offer in your store, including t-shirts, hoodies, mugs, flip-flops, tank tops, phone cases, cushion covers, flags, leggings, etc.
Launch shipping & fulfillment
As a supplier, you can produce goods, ship, and fulfill them in one place to painlessly increase your income!
Features for Store Owners
Creation of products
Create new collections in 5 seconds!
Handy and intuitive product generator for customized goods;
Creation of custom branded packing slips;
Capability to manage preferences - set up default enabled products for new collections, customize product titles, descriptions, and markups;

Managing store

Integrated marketplaces - all product orders made on Shopify are sent directly to admin who prints and ships orders to customers;
Flexible volume discount system + manual discounts;
Full payment history, invoice generation, email notifications upon unpaid invoices.
Separate informative dashboard for store owners;
VAT charges based on the store owner's location;
Orders management with Profit calculation;
System notifications, email sending;
Access to product list data with prices of delivery to certain shipping zones;
The ability to change merchant and store data in the POD product itself, synchronization with the admin panel.
Admin panel features

ShipStation & ShipHero integration - automatic exporting of orders from app to Shipstation or ShipHero, automatic fulfillments update, the possibility to send the shipment tracking codes to the app;
Discounted Shipping prices for multiple items, setting up prices for different shipping zones;
Currency management;
Automatic artwork generation - downloadable from admin panel, capabilities to upload to Google Drive/Amazon S3/Dropbox;
Manual artworks download – to upload into the printing equipment's firmware;
Real-time task monitoring;
Generation and management of Products, Product variations, and Layers;
Orders, Customers, Affiliates management;
Automatic and manual messaging with merchants;
Product Categories, Colors, Brands, Size charts management;
Automated invoicing; Invoice template customization;
System settings management.
Integration scheme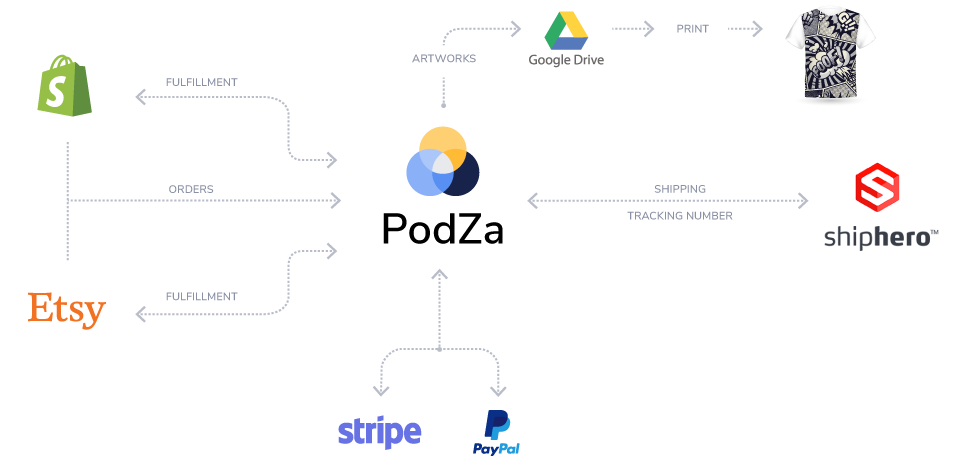 Reasons to contact us today
Is one of the mentioned cases relevant to your situation? Maybe you feel that our product meets some other of your needs? Perhaps you have own daring e-commerce ideas? Discuss them with us!
Contact us and describe your situation:
What are the workflows in your print on demand business?
What integrations would enhance the successful operation of the business?
What solutions do you already use and how fully do they correspond to your requirements?
Fill out the form at bottom and we will contact you as soon as possible. We are confident that our POD platform can be customized to the needs of the most demanding customer.
Perhaps you already have everything working perfectly, and you do not need advice, consulting will be an extra waste of money for you. However, this does not exclude the possibility that there are gaps in your business as a system, that you are not aware of, but which hinder its growth.
How to get the PodZa Print On Demand solution?
Clarify requirements
Pay for invoice
Name & SSL
Set up & Publish
Ready to work!
Make it happen right now!
Lets get started with your project
Want to see our product in action?

REQUEST A FREE DEMO